Meet the Board
The initial teacher education (ITE) Accreditation Board (the Board) is responsible for accrediting ITE programmes.
The Board consists of 12 members, including the Chair and two deputies, all drawn from different fields of education.
Dr Hazel Hagger (Chair)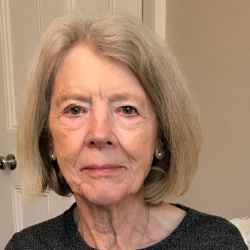 Hazel Hagger worked in secondary schools as a teacher and leader for a number of years before joining the University of Oxford, contributing to planning and developing one of the first partnerships in ITE.
Hazel has considerable experience in developing courses and programmes in ITE and continuing professional learning, as Director of Professional Courses at the Department of Education, Oxford University, and in an advisory capacity at many universities in the UK and abroad. She has also been involved in national reviews of ITE provision, and in both partnership and mentor development in many countries. She also has experience of developing research capacity in educational research as an adjunct Senior Research Fellow at Auckland University.
Hazel's research interests are in the nature, acquisition and development of teachers' expertise, and on mentoring and partnerships in education. She has written extensively in these areas.
Hazel became a member of the ITE Accreditation Board in 2017, succeeding Professor John Furlong as Chair in 2019.
Dr Áine Lawlor (Deputy Chair)
Áine Lawlor qualified as a Primary Teacher in 1969, holds a B.A., H.Dip in Ed., Dip. Ed. Admin., M.A., Ph.D. and a PG Diploma in Irish Translation.
Áine's career spans a number of firsts. In 1975 she took on the role of Head at a new school in Dublin starting with just 33 pupils. In 1996, she became the Assistant National Co-ordinator for the Relationships and Sexuality Education Support Service. Then in 1998 Áine took on the role of National Co-ordinator for the Primary Curriculum Support Programme and in 2004 Áine became the first CEO of the Teaching Council (Ireland).
After retiring in 2011, Áine continued to be involved in ITE. She has been an Advisor and Rapporteur for the Sahlberg Report on ITE in Ireland, a member of the Welsh Government Task and Finish Group on Criteria for ITE. She has also been a member of the Welsh Government ITE Expert Forum and Chair of Mary Immaculate College Research Ethics Committee.
As well as membership of a number of committees at national level in Ireland, Áine is Deputy Chair of both the Board of Trustees and the Governing Authority at Mary Immaculate College, Limerick. She also chairs the National Steering Committee for the Centre for School Leadership (Ireland).
Áine became a member of the ITE Accreditation Board in 2017.
Dr Christine Jones (Deputy Chair)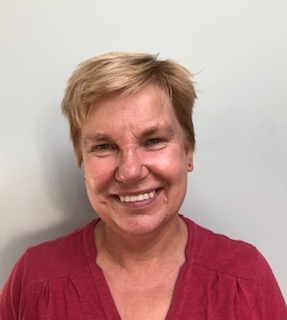 Following a degree in Welsh in Aberystwyth, Christine Jones completed her PhD on the Welsh dialect of Pembrokeshire in Lampeter. She took up a lecturing post in Welsh there in 1988, becoming Head of Department in 2007. In 2010 she was appointed Head of the School of Welsh in the University of Wales Trinity Saint David, before moving to the role of Assistant Dean Quality in 2015. She became Dean of the Institute of Education and Humanities in UWTSD in 2020 and retired from full-time employment in 2022.
Christine has published books and articles on sociolinguistics and applied linguistics including several books for Welsh language learners. She was a reviewer for the UK Quality Assurance Agency between 2018 and 2022 and now works part time for the QAA as a Quality Manager. She undertakes a similar part time quality role for the Welsh Language Services Unit in UWTSD. Christine is Deputy Chair of Governors in Ysgol Bro Dinefwr and was previously Chair of Governors in a primary school for many years.
Christine became a member of the EWC Initial Teacher Education Accreditation Board in 2022.
Dr Anita Rees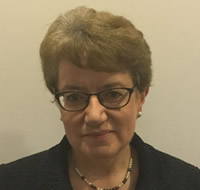 Dr Anita Rees graduated from the University of Wales, Aberystwyth, with a History degree. Her research interest for Ph.D. was on 18th century politics.
Anita was a teacher for 34 years and spent her whole career in Welsh-medium secondary education. She served widely in middle and senior leadership roles, gaining experience and particular interest in areas of assessment, Additional Learning Needs (ALN), and professional development. After a period as Acting Headteacher, she retired in 2017.
Anita became a member of the ITE Accreditation Board in 2017.
Catherine Evans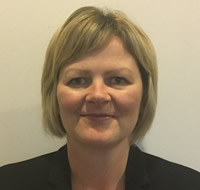 Catherine Evans is an Assistant Director with Estyn and leads on developing and implementing the inspection policy across the organisation. She has responsibility for Estyn's work with secondary and all-age schools and initial teacher education partnerships. She leads on aspects of Estyn's support for Welsh Government's education reform programme, including curriculum development, professional learning and the development of a national resource for school improvement.
Catherine joined Estyn in 2009 and was involved in a wide range of inspection and thematic work relating to secondary and primary schools and further education. Before being appointed as Assistant Director, she was sector lead inspector for secondary schools. Catherine attended Ysgol Gyfun Gymraeg Glantaf, the University of Manchester, and the University of Oxford, Department for Education. Previously, Catherine worked in schools in the West Midlands and South Wales.
Catherine became a member of the ITE Accreditation Board in 2017.
Robert Newsome OBE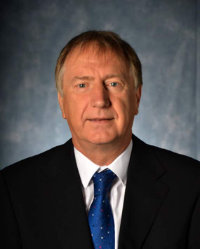 Robert Newsome currently works as an education consultant in both the state and private education sectors. He has also been a panel member and chair for the EWC's Professional Standards Committees since 2012.

Robert worked as a classroom teacher for 20 years in both Leicestershire and later in Swansea. He was appointed as Headteacher at Llandrindod High School in 1999 and then as Headteacher at Dyffryn Taf, Carmarthenshire in 2002 until retiring in 2018. Robert was awarded the OBE for 'Services to education and young people' in 2009.
Robert is also Chair of Ambassadors for the Duke of Edinburgh's Award in Wales.
Robert became a member of the ITE Accreditation Board in 2019.
Richard Parsons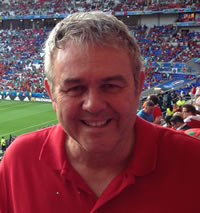 Richard Parsons taught Modern Foreign Languages in various English and Welsh-medium secondary schools across South Wales for 23 years. Richard left his post as Assistant Head in Ysgol Gyfun Cwm Rhymni to project manage the successful all-Wales CILT Cymru-Wales primary MFL pilot, on behalf of Welsh Government.
Richard moved to Blaenau Gwent County Borough Council as Senior Advisor, before being appointed Assistant Director of Education. In 2012, Richard moved to the EAS Consortium with responsibility on the Speech Language Therapy (SLT) for the Welsh-medium sector. Richard set up Erwlas Educational Consulting in 2014, and assumed consultancy roles for both the EAS and the Central South Consortium, working primarily as a Challenge Advisor.
Richard has also worked on numerous consultations and reviews for Welsh Government in various fields, but mainly in education. Richard has been involved in many school inspections for Estyn across Wales, both as an Inspector and as a Challenge Advisor.
Since 2018, Richard has also been working for the WJEC as a Joint Council for Qualifications (JCQ) Inspector, as well as serving on the Appeals and Malpractice Panel.
Richard became a member of the ITE Accreditation Board in 2017.
Sarah Lewis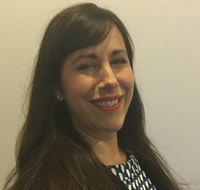 Sarah Lewis is the Lead Inspector for Initial Teacher Education in Estyn. Sarah has a background in art and design and performing arts. She taught in further education, and primary and secondary schools before moving into a teaching role in ITE.
Sarah was a senior lecturer at the Cardiff School of Education in the University of Wales, Institute Cardiff (now Cardiff Metropolitan University) for 12 years, where she was Programme Lead for PGCE Art and Design and Framework Director for Continuing Professional Development.
Sarah joined Estyn as HMI in 2009 from her post as School Improvement Officer in a local authority in North Wales. In addition to her lead role in ITE in Estyn, she is involved in a wide variety of thematic and inspection work across a range of sectors.
Sarah became a member of the ITE Accreditation Board in 2017.
Penny Lewis
Penny Lewis studied at the University of Liverpool before completing ITE at the University of Nottingham. She took up her first teaching appointment in 1975 at The Harwich School, Essex,. Penny then moved to London where she taught and led languages in a variety of schools and contexts across south London. In 1985, Penny was seconded to Homerton College, Cambridge as part of Croydon's curriculum development programme for the first National Curriculum.
Between 1989 and 1992, she worked as an advisor for languages for the London boroughs of Sutton and Bromley, working alongside teachers to develop new ways of teaching languages to primary pupils through to the adults. This work contributed to her completing a Masters' degree in education.
In 1993, Penny moved to The Open University helping to develop the UK's first distance learning teacher training programme. She subsequently became Deputy Director for the programme with a particular responsibility for the programme in Wales and Northern Ireland. While at The Open University, she developed research interests in teacher identity and development.
In 2001, Penny returned home to Wales to take up the post of HMI with Estyn. In this capacity, Penny has worked on inspection teams in most sectors of education in Wales and represented Estyn on many advisory groups. Penny retired from full-time employment with Estyn in 2016.
Penny became a member of the ITE Accreditation Board in 2019.
Dr Beth Dickson
Dr Beth Dickson is a Senior Lecturer in the School of Education, University of Glasgow. During her period as Associate Dean Initial Teacher Education and Deputy Head of School, she led the team which developed the PGDE into an M-level qualification, the first Scottish Masters-level route into teaching. She then led the team which reformed the curriculum of the four-year programme for initial teacher education.
Beth has been involved in radical moves to improve the quality of teaching placements for student teachers. Her research interests are in curriculum development in initial teacher education. Beth relaxes by reading detective fiction and watching television dramas. She enjoys her times in Wales and her conversations with teachers and pupils in schools.
Beth became a member of the ITE Accreditation Board in 2019.
Andy Liptrot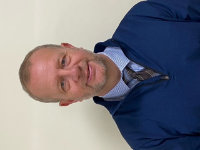 Andy Liptrot is the Headteacher of Sandycroft CP School in Flintshire, North Wales. He is a panel member and chair of EWC fitness to practice committees. Andy has worked with Estyn for many years as an experienced Peer Inspector.
Andy has worked in primary education since qualifying in 1988, initially working on the Wirral in a variety of schools until moving to take up his post as Headteacher in 2004. He is passionate about his job and believes teaching is the best job in the world; he is keen to promote this belief in the teachers of the future.
His professional interests centre on the positive and proactive management of staff development through a culture of high challenge and low threat.
He has worked closely with Flintshire County Council in a range of roles including Challenge Advisor, Chair of Flintshire Primary Headteachers Association and supporting newly appointed Headteachers. In addition, Andy continues to work with GwE as a panel member and Chair, assessing prospective headteachers for the National Professional Qualification for Headship.
Andy became a member of the EWC Initial Teacher Education Board in 2022.
T Anne Morris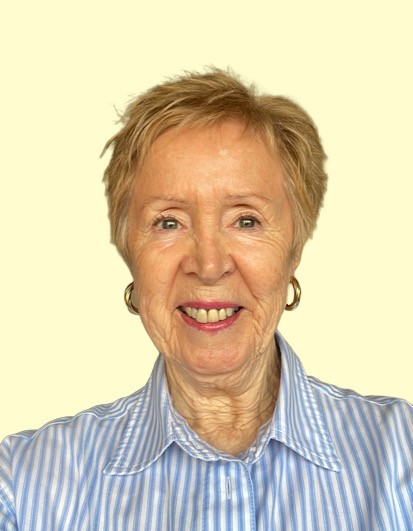 T Anne Morris gained her degree in Welsh from University College Wales, Aberystwyth, where she also completed her Master's degree.
She started her career as a teacher in Ysgol Gyfun Ystalyfera, before having the unique experience of being one of the first ten teachers at Ysgol Gyfun Gŵyr, when it was established in 1984. A highly experienced middle and senior leader, she was Deputy at the school for 12 years, developing areas such as assessment, more integrated pedagogical practice and professional development.
Anne was head of Ysgol Gyfun Llanhari for five years before becoming Principal of the Garth Olwg 3-19+ Learning Community campus and head of Ysgol Gyfun Garth Olwg.
Now an independent education consultant, Anne has worked with individual schools and regions on school improvement and raising standards issues. She was an honorary tutor at Cardiff University, and contributed extensively towards developing the Mentor role within the innovative Masters in Educational Practice programme, introduced in 2013.
She continues to be highly committed to the professional development of teachers by being a Mentor and External Verifier supporting the Induction process for newly qualified teachers. Trained as a peer inspector, she continues to be an Estyn Team Inspector.
Anne became a member of the EWC Initial Teacher Education Accreditation Board in 2023.